Pay One Low Monthly Price and Get:
High Tech, Artificial Intelligence Driven, Juniper Network Equipment


(

Learn More

)
Free Installation and Integration

24×7 Equipment Maintenance, Monitoring and Management

Fully Integrated Security Solutions

4-Hour Disaster Response Time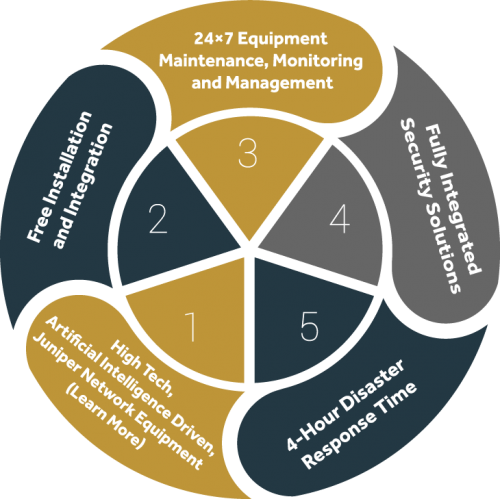 What if your network operations were as simple as turning on a light switch or charging a cell phone?
Imagine paying an affordable, fixed monthly rate for a complete and managed network service that you can always rely on.
With Surazal's Network Complete Service, it really is that simple!
No equipment purchases or expensive management tools are necessary.
Our Network Complete Service includes top-notch, reliable, artificial intelligence driven Juniper Network Equipment.
This all-encompassing service ensures fast, reliable and safe network connections for wireless, VOIP, LAN and WAN networks.
These solutions are designed and delivered based on your organization's preferences.
Surazal AirSpeed Service with Juniper Wireless Access Points
Surazal AirSpeed service brings to your organization a complete and managed Wi-Fi Service with top-of-the-line Juniper Network equipment, coupled with fully monitored and dependable wireless connectivity.
Juniper Wireless Access Points work in conjunction with Juniper Mist Cloud Services and Mist AI to deliver premier wireless access capabilities. The Juniper Mist Edge extends microservices to the campus to bring agility and scale while enabling new applications at the edge.
Included With Surazal's Network Complete AirSpeed Service:

High Speed Wi-fi
Fully managed high speed Wi-Fi Service with artificial intelligence

Customizable Applications
Customize applications across your network with ease

Excellent Wireless Connectivity
Experience strong, dependable, and seamless wireless connectivity throughout your organization

24x7 Network Monitoring
Relax knowing that Surazal's Network Complete service monitors your network 24/7

Merge New Devices
Connect new devices seamlessly with your existing technology
Surazal LAN Speed with Juniper Ex Series Switches
SolidNet Lan Speed service brings your organization ​the most intelligent LAN fabric simply delivered, with a fully managed and monitored network service.  
With the EX Series, wired access networks don't have to be complex. You can reduce risk and cost without compromising performance, quality, or innovation. Easily onboard, configure, and manage the switches and operate campus fabrics at scale with the Juniper Mist Cloud. Combine the EX switches with Juniper's Wi-Fi portfolio for a unified wired and wireless solution, driven by Mist AI, that delivers simple and secure connectivity at scale.
Included with Surazal's Network Complete LAN Speed Service:

Easy To Troubleshoot
No more complex troubleshooting! SD-LAN is user experience driven and manages everything from LAN switches to WI-FI access points. This allows your IT team to quickly troubleshoot at individual, site, and network levels.

View and Control Your LANS
SD-LAN gives your IT team the ability to view and control their LANs everywhere, from the cloud to the user's device. By using SD-LAN, you have greater control of the enterprise network down to the application layer and have deeper insight into the network's performance and use.

Artificial Intelligence
Juniper switches deliver agile, reliable, and scalable networks with AI-powered automation and insights.

Reduce Downtime
The SD-LAN concept provides a network-wide, policy-based approach to the management of devices in the LAN. A controller assigns policies to all the devices in the access layer of the enterprise network. This reduces the provisioning time and centralizes the management of the enterprise network.
Surazal WAN Speed with Juniper AI SD-WAN
Surazal WAN Speed service brings your organization a cost-effective way to create a private network that succeeds across various connection types, all while never compromising security and maintaining connectivity, control and performance.
Deliver a deterministic, optimized end-user experience across the WAN. AI-driven SD-WAN improves WAN performance by eliminating the tunnel tax. Paired with the Juniper Mist WAN Assurance service, it delivers insights and automates troubleshooting for improved uptime and performance.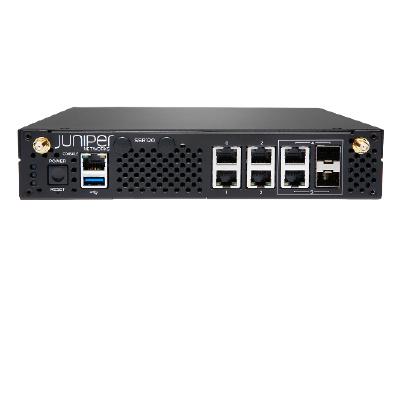 Included with Surazal's Network Complete SD-WAN Service:

Automatically Routes Traffic
Surazal's Network Complete SD-WAN service automatically routes traffic across the best link, so your critical applications never miss a beat.

Easy Network Integration
With Network Complete SD-WAN, your organization can easily integrate with your existing network to deliver speed and reliability to inaccessible and remote sites.

Consistent Connectivity
Gain complete connectivity across your campus without sacrificing data security.

Easy to Operate
Granular network visibility and automation simplify operations, freeing up IT staff for more strategic projects.

Simplistically Secured
Safeguard users and devices across your WAN while streamlining IT operations. Zero Trust session integrity, secure vector routing, and deny-by-default access policies are just some of the ways we ensure your Juniper SD-WAN provides simple but effective security.
Surazal HyperSecure Firewalls
Surazal's

HyperSecure Firewall with Juniper SRX Firewalls
Surazal's HyperSecure Firewall service delivers greater protections for your network against an increasingly evolving and complex set of threats. With Juniper Networks Next Generation Firewalls, we layer security, manageability, and proactive network management software. This service will focus on safeguarding your organization's network 24×7.
The SRX300 line of Services Gateways provides next-generation security, networking, and SD-WAN capabilities to support the changing needs of your cloud-enabled, AI-driven enterprise network. Managing the SRX300 line of Services Gateways via the Juniper Mist cloud simplifies your branch operations. Whether you're adding new applications in multiple locations, connecting to the cloud, or striving to improve operational efficiency, the SRX345 can help with scalable, secure, and easy-to-manage connectivity.
Included with SolidNet Network Complete HyperSecure Firewall Service:

Threat-Aware Network
SolidNet HyperSecure Firewall Service delivers threat protection with Juniper Advanced Threat Prevention, including malware sandboxing, threat intelligence feeds, and Encrypted Traffic Insights to detect malware hidden in SSL-encrypted traffic.

Reliable
Protect users, applications, and devices without sacrificing reliability or performance.

Protected
Protect your network edge, data center, and cloud applications with Juniper next-generation physical, virtual, and containerized firewalls.

Consistent Security
Seamlessly secure your remote workforce with consistent security policies that follow users wherever they go.
Contact us to see how we can improve
the functionality of your organization