Surazal
HyperSecure
Firewalls
Surazal's

HyperSecure Firewall with Juniper SRX Firewalls
Surazal's HyperSecure Firewall service delivers greater protections for your network against an increasingly evolving and complex set of threats. With Juniper Networks Next Generation Firewalls, we layer security, manageability, and proactive network management software. This service will focus on safeguarding your organization's network 24×7.
The SRX300 line of Services Gateways provides next-generation security, networking, and SD-WAN capabilities to support the changing needs of your cloud-enabled, AI-driven enterprise network. Managing the SRX300 line of Services Gateways via the Juniper Mist cloud simplifies your branch operations. Whether you're adding new applications in multiple locations, connecting to the cloud, or striving to improve operational efficiency, the SRX345 can help with scalable, secure, and easy-to-manage connectivity.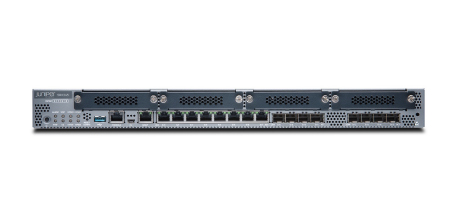 Included with SolidNet Network Complete HyperSecure Firewall Service:

Threat-Aware Network
SolidNet HyperSecure Firewall Service delivers threat protection with Juniper Advanced Threat Prevention, including malware sandboxing, threat intelligence feeds, and Encrypted Traffic Insights to detect malware hidden in SSL-encrypted traffic.

Reliable
Protect users, applications, and devices without sacrificing reliability or performance.

Protected
Protect your network edge, data center, and cloud applications with Juniper next-generation physical, virtual, and containerized firewalls.

Consistent Security
Seamlessly secure your remote workforce with consistent security policies that follow users wherever they go.
Contact us to see how we can improve
the functionality of your organization